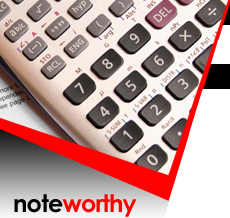 Of Interest: January 2008
Message from the President
Happy New Year
Our business is about getting you more: more interest, more service, more banking advice. Our approach is to maximize your return by locking in when interest rates peak. Many of our clients ask us what interest rates will do in the coming months.
And no wonder with the subprime mortgage crisis hitting the news and many big name financial institutions writing down their investment portfolios. 2007 saw many remarkable economic events and it seems like 2008 has begun in the same fashion with the Canadian dollar still trading at or near par with the US dollar, oil having reached $100 a barrel mark and gold now hitting record highs at $840 an ounce.
That's why we are pleased that 2008 marks our first annual Interest Rate Forecast. Featuring a summary of key economic indicators, the forecast includes industry predictions for interest rates and our recommendations for maximizing your money.
Best wishes for health and prosperity in 2008,
Stephen A. Tomchishin, President
2008 Economic Forecast
2007 was a year to remember with the banking industry seeing record highs and all time lows. Low interest rates, high commodity prices and high employment fueled strong economic growth, pushing the Canadian dollar to record highs. The financial markets hit an all time low with the subprime mortgage crisis in the US triggering a global economic crisis.
Despite the concerns in the US over subprime, the Canadian economy continued its trend of stable growth for the 7th consecutive year. Interest rates remained at a stable 4.25, increasing to 4.5 in the third quarter only to return to previous levels in Q4.
Economic Crisis in the US
With banks, investors and consumers still reeling from the economic blow of the US subprime mortgage crisis, economists are reticent to predict an outcome for the US economy. The US Federal Reserve revised their forecast, calling for much slower growth due to market uncertainty, declining housing prices, rising oil prices, and a weaker US dollar.
2008 Economic Outlook 
Contrary to the popular belief that the economic shake-up in the US will cause a downturn in the Canadian economy, the economic outlook for 2008 calls for continued slow and steady growth. Economists forecast a 2.7% growth rate for the Canadian economy, a marginal gain over the 2.6% growth in 2007.
A key economic driver, consumer spending is predicted to remain vibrant due to high employment, income gains, low interest rates and government tax breaks, including a 1% cut to the GST. Unemployment rates are forecast to remain below 6.0, with many Western regions well below the national average.
Despite a general slowing in new housing starts, new home construction will remain strong by historical standards. In regions where a housing boom caused serious price inflation, multiple home starts are seeing less of a slowdown as consumers shift their demand toward less expensive options.
Interest Rate Forecast
Economists are predicting Canada will see another rate cut in the first quarter of 2008 with rates stabilizing for the remainder of the year with the possibility of a marginal increase in Q4. The US will see a similar pattern of rate cuts in early 2008 followed by gradual increases to 2007 levels by the end of the year.
In practical terms, we suggest that if possible, you lock in now for a one-year term to 'bridge' the period of low interest. This short term strategy will help you minimize the loss of income from the anticipated interest rate drop in Q1/08 and time your investment renewal for a period when interest rates are predicted to be higher.
Economic Indicators (Forecast)
Rental Vacancy Rates

Calgary

Edmonton

Vancouver

2007 1.2%

2007 1.0%

2007 0.8%

2008 1.7%

2008 0.8%

2008 1.0%

Housing Starts

2007 14,250

2007 14,550

2007 19,000

 16.4%

 2.8%

 1.6%

2008 13,250

2008 12,400

2008 18,500

 7%

 14.8%

 2.6%

Multiple Home Starts

2007 6,250

2007 6,750

2007 15,000

 4.8%

 14.3%

 14.6%

2008 6,000

2008 5,700

2008 14,700

 4%

 15.6%

 2.0%

Unemployment Rate

2007 3.2%

2007 3.8%

2007 4.1%

2008 3.5%

2008 4.0%

2008 4.1%

Net Migration

2007 22,000

2007 19,000

2007 31,350

 29.5%

 9.9%

 3.0%

2008 18,000

2008 15,500

2008 33,300

 18.2%

 18.8%

 6.2%
Sources:
Canadian Mortgage and Housing Corporation
The National Post
Globe and Mail
www.cbc.ca