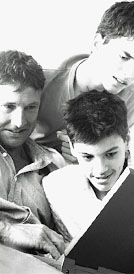 With William J. Rhind & Associates, increased profits aren't the only reward - we'll help you find more time to enjoy your success.

Business accounts
Related services
Bankers Making Housecalls

With big business leverage
Banks tend to focus on the consumer and big business sectors. Why? Because individually, small business deposits don't represent much to the bank. But, together, small businesses represent a significant portion of their net depositors. William J. Rhind & Associates helps small businesses negotiate from a position of strength by leveraging their clients' deposits as a group. Over $300 million worth, not that we're keeping score.


Your money deserves more interest
In business, all that matters at the end of the day is the bottom-line. It's a simple formula: your revenue minus expenses determines your sustainability. Despite the conventional wisdom of maximizing profitability, business owners often miss out on the opportunity to earn interest on general accounts. William J. Rhind & Associates offers small business owners a way of earning interest on their general funds with daily interest chequing accounts.


Better banking products and expert advice too
We understand how banks work, it's our job. We'll help you negotiate better rates with the banks and achieve fairer outcomes should disputes arise. If you need credit now or in the future, we'll help you submit the ideal package. The best part is all our advice and assistance is provided at no cost to you, the banks pay us to help you.


We only work for small and medium-sized companies

Earn higher income on your average minimum balance without sacrificing flexibility. How? If the minimum balance in your general account is $50,000, transfer that amount into a daily interest savings account leaving only what you require for day-to-day operations. If you need access to those funds, simply transfer the funds back to your general account and the money will be deposited within 48 hours.